Introducing Vox Mobile's DaaS + MMS for Apple Program.
EMPOWER THE MOBILE ENTERPRISE. ENABLE CHOICE.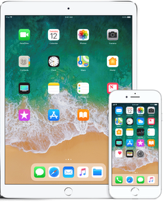 Mobility has transformed how people work. When it comes to mobile technology at work, employees prefer Apple® products. Employee choice not only drives job satisfaction and retention but empowers individuals to be more productive. However, many businesses are ill-equipped or lack the resources to support iOS and Mac® devices for an entire enterprise. They also struggle manging a multitude of supplier contracts, complicated cellular billing agreements, huge numbers and variety of man devices, rapidly changing technology, security threats, and extremely high user expectations.
DaaS + MMS for Apple Program simplifies mobility and drives productivity.
Vox Mobile introduces Device-as-a-Service (DaaS) + Managed Mobility Services (MMS) for Apple Program to greatly simplify the design, device procurement, deployment, management and support
of enterprise applications on iOS and macOS®. This all-inclusive program provides companies with the best products and platforms for business combined with the best end-to-end lifecycle
managed services – all for one affordable monthly price (starting as low as $15/device). Businesses benefit from lower capital and operational costs, while improving employee satisfaction and freeing up resources to accelerate strategic IT and line-of-business initiatives.
One source for everything an Apple enterprise needs.
Vox DaaS + MMS for Apple Program provides a single source fully-managed solution that
spans all the critical components of a well-oiled Apple enterprise including:
Flexible options to fit your business needs.
Vox Mobile offers flexible and customizable DaaS + MMS for Apple bundles to meet your organization's unique needs.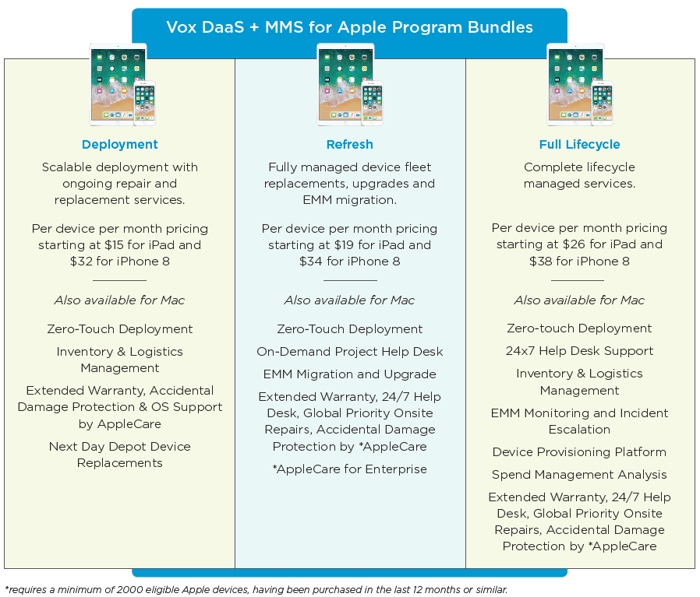 Put Vox DaaS + MMS for Apple Program to work for your enterprise.
Learn more about how the Vox DaaS + MMS Apple Program can lower your mobility costs, streamline deployment and support, and improve your employees' work experience.
Contact us at apple@voxmobile.com or 1.800.536.9030.